Ford EV Dealer West Branch IA
Ford EV Dealer West Branch, IA
Ford hybrid and electric vehicles feature advanced fuel-saving technology. Unexpectedly exhilarating EV performance. Mind-blowing technology. Driving has never been more fun. From potential tax incentives to saving on gas and scheduled maintenance, a Ford EV helps keep money in your pocket. Owning an EV is surprisingly easy. Ford is committed to making it even easier with all the answers you need below.
Ford EVs
Ford electric vehicles feature advanced fuel-saving technology. Whether operating in electric mode, gas mode, or a combination of both, these vehicles optimize efficiency and simplicity. The plug-in hybrid vehicles can be recharged in under three hours using a 240-volt outlet. And now, the family has an all-electric SUV with the first-ever Mustang Mach-E. The 2023 Ford E-Transit Cargo Van is robust, with a fully electric powertrain with a 68 kWh battery. The first-ever electric F-150 is Built Ford Tough and is ready for whatever you throw at it.
2023 Ford E-Transit
2023 Ford Maverick
2023 Ford Mustang Mach-E
2023 Ford F-150 Lightning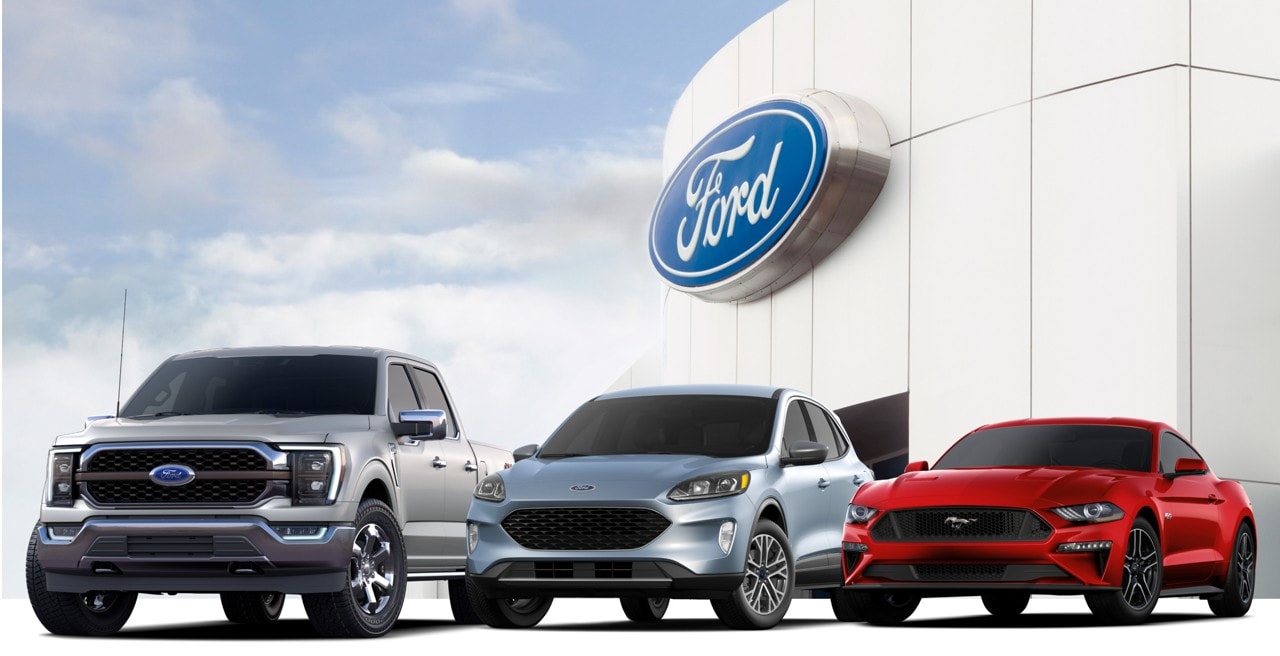 Benefits of Owning a Ford EV
Upgrading to a Ford electric vehicle brings with it several benefits. Whether you buy a new or used EV, here's what you can expect when you swap gas station visits for plugging in. You can recharge at home, at public Level 2 and DC fast chargers, and anywhere there's an outlet. Ford EVs offer immense amounts of torque and near-silent operation. The way an electric motor works, you get all of its torque at zero RPM, which in the real-world means that an EV will accelerate much quicker than most drivers expect. For this reason alone, driving a Ford EV is more than worth it.
Fun to Drive
Less Maintenance
Zero Tailpipe Emissions
Longer Range Than Ever Before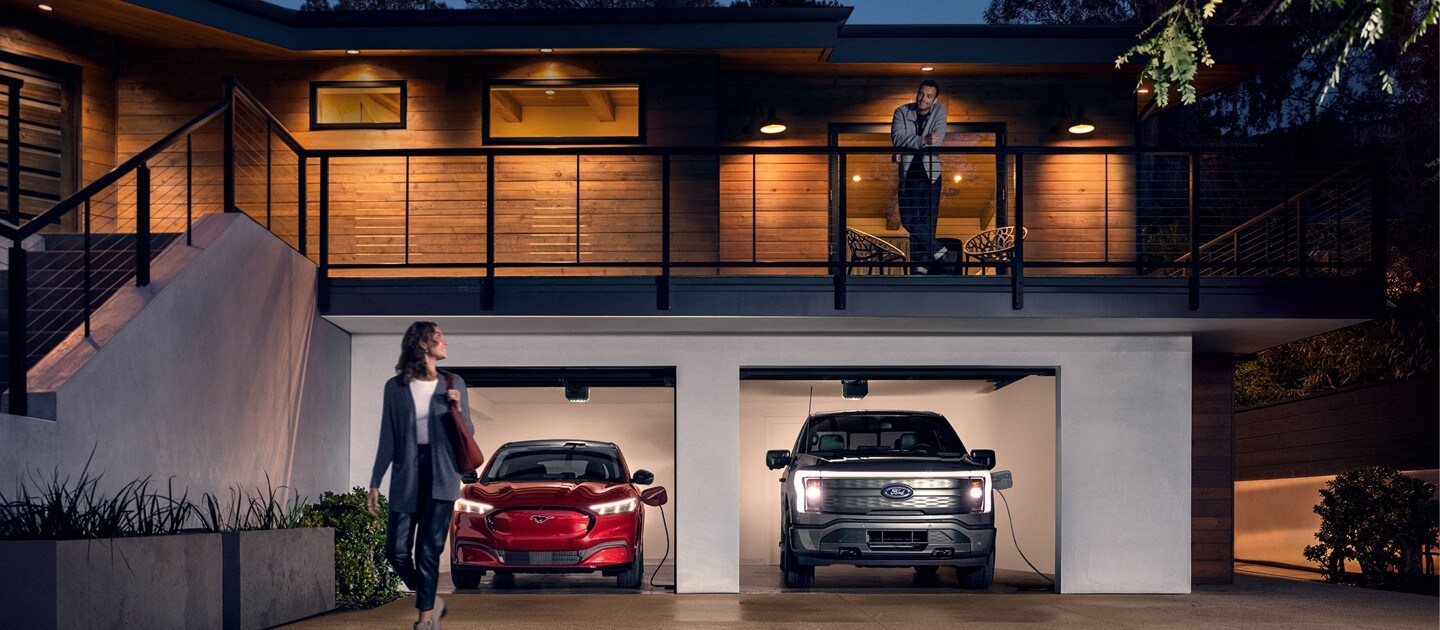 EV Maintenance
The electrical system in your electric Ford requires minimal scheduled maintenance, and brake systems generally last longer than those on conventional vehicles, thanks to regenerative braking. Ford EVs eliminate over two-dozen mechanical components that would typically require periodic service. For example, with an F-150 Lightning, you might spend roughly 40% less, on average, for vehicle maintenance than you would with its gas-powered counterpart over five years or 75,000 miles. An EV owner avoids paying for things like tune-ups, oil changes, cooling system flushes, transmission servicing, and replacing the air filter, spark plugs and drive belts. Still, an EV is not maintenance-free. Aside from tire rotation, replacing the cabin air filter and wiper blades, and topping off the washer fluid, much comes down to various mechanical inspections.
No More Tune-Ups
No Oil Changes
No Engine Service
Fewer Break Services
Charging Your Electric Ford
Ford provides multiple ways to charge your EV. However, the Ford Home Charge Station Pro, which provides a Level 2 charger, is the most convenient way to charge. It is designed specifically for your Ford EV and works with the industry standard CCS1 charge cord. The Ford Charge Station Pro delivers up to 80 amps to maximize and will fully charge your all-electric F-150 Lightning Extended Range vehicle overnight. With your Ford all-electric vehicle, the places you can stop to power up are as wide open as the places you can go to unwind. Additionally, with the FordPass App, not only do you have access to the BlueOval Charge Network, but you also gain complimentary charging.
Power My Trip
BlueOval Charge Network
Complimentary Charging
Best Home Charging Unit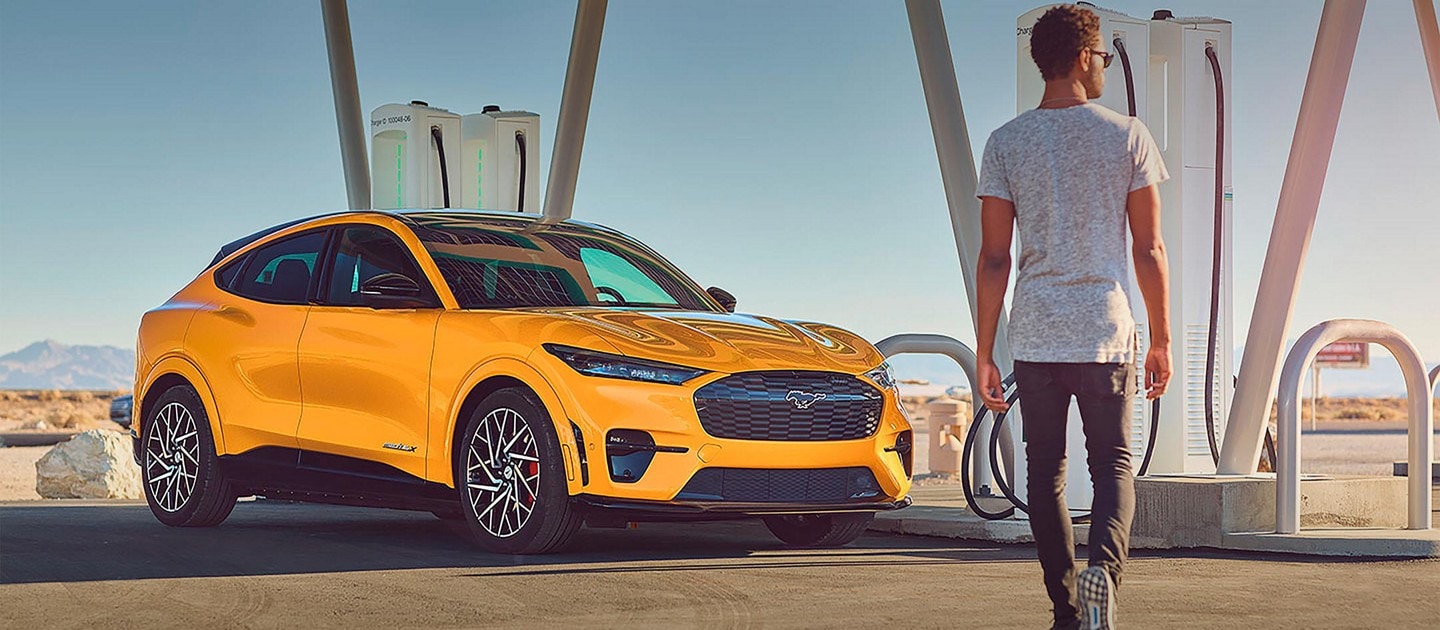 Brown's West Branch Ford has your next electric Ford
Come and check out Brown's West Branch Ford's selection of new Ford Electric Vehicles. If we don't have what you're looking for in stock, we are well-versed in the ordering process and can help you order exactly what you're looking for. No matter which vehicle you decide on, our professional finance team will help you get settled with a competitive financing or lease plan. Many folks count on the high-quality vehicles and services found at Brown's West Branch Ford, and we look forward to living up to our reputation every day. So stop in and see us today, or contact our staff with any questions. Thank you for choosing Brown's West Branch Ford!